Waterlase iPlus All-Tissue Laser System
Hackensack NJ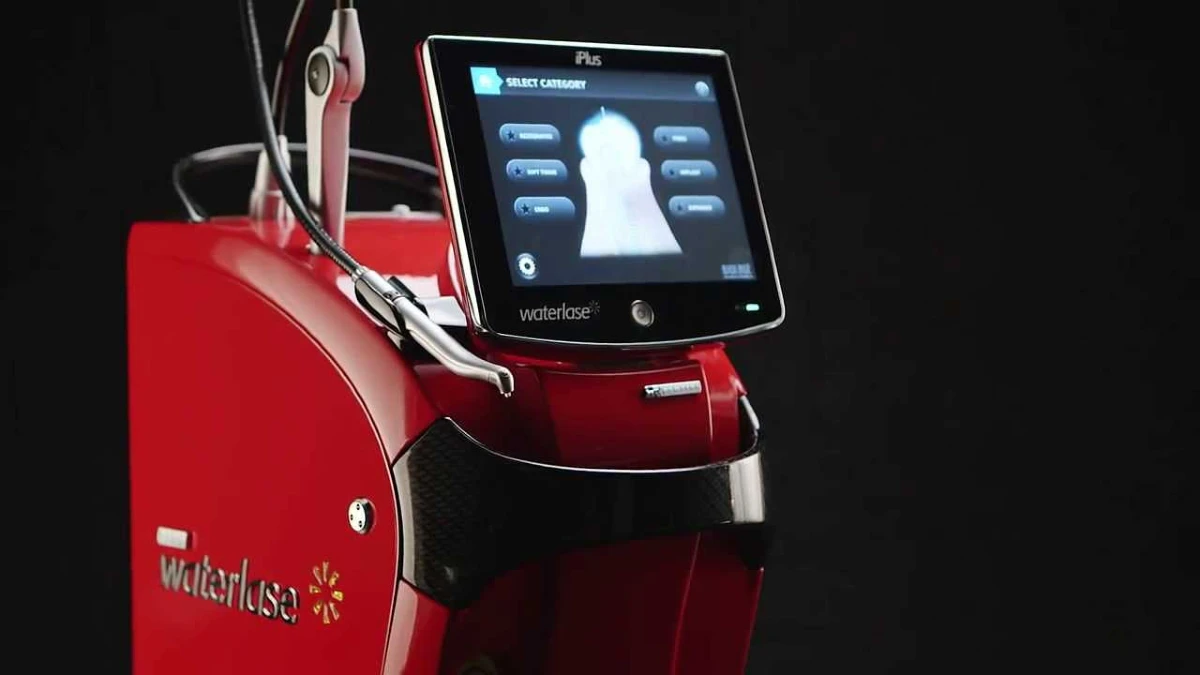 At Gentle Dental Laser dental clinic, we pride ourselves on offering the latest and most advanced technologies at our clinic. Laser dentistry using Waterlase iPlus All-Tissue Laser System is one of our specialties in the Hackensack area, giving our patients a much more comfortable and minimally invasive treatment and a faster recovery period.
Lasers have been used for more than three decades in the field of dentistry. Laser dentistry can aid in several procedures such as teeth whitening, tooth decay, gum disease, biopsy, and hypersensitivity. It is worth mentioning that even though the FDA has approved the use of lasers in dental procedures, they do not have the seal of acceptance by the American Dental Association (ADA). However, they have stated that they are hopeful about the potential of laser dentistry.
How Do Lasers Work?
Lasers are devices that deliver energy in the form of light in a narrow and focused beam. When the laser beam hits the tissue, it creates a reaction that can be used to cut the tissue, tooth, and bone or cauterize the blood vessels. Waterlase iPlus system combines laser energy and water spray. Water droplets and air are energized by laser beams and have impeccable precision and efficiency when directed at the tooth.
Because Waterlase iPlus system can work on both hard and soft tissue, it can be used for numerous treatments. Some of the hard tissue treatments include but are not limited to the following:
Cavity detection by finding evidence of tooth decay
Tooth preparation for filling by killing bacteria in a cavity and removing decay
Treating tooth sensitivity by sealing the tubules on a tooth's root
The system can be used on soft tissue treatments such as:
Reshaping gums and removing bacteria
Removing soft tissue fold from ill-fitting dentures
Biopsy or lesion removal
Exposure of unerupted teeth
Implant recovery
Incision and drainage of abscesses
Root canal debridement and cleaning
Advantages of Waterlase iPlus All-Tissue Laser System
When compared to the traditional surgical dental treatment where a drill needs to be involved, there are many advantages to using a laser system such as:
Lesser need for sutures
No contact with the tooth
No vibration and no heat
Increased comfort for the patient both during and after the treatment
Minimalized bleeding and swelling
Lesser or no pain
Possibility to avoid anesthesia
Lower chance for bacterial infection
Faster healing and regeneration process
Lesser damage to the surrounding tissues
Reduced anxiety which may result from using a drill
Disinfecting the area while working on it
Disadvantages of a Laser System
Even though they are a few, there are still some cons to using a laser system during a dental procedure as there are always cons to any medical procedure. A laser system cannot be used if;
there is already filling in a tooth
the cavity is in between the teeth or around old fillings
the cavity is large and the teeth need to be prepared for a crown or a bridge
defective crowns or silver fillings need to be removed
there is a risk of gum injury
Another drawback from the dentist's point of view would be the cost. Laser systems are more expensive than drills; thus, this would reflect on the cost of treatment. On the other hand, since the treatment would as short as a day, it may cost lesser to use a laser system and finish the treatment swiftly.
Our dentists at Laser dental clinic strive to ensure that you receive the best and most advanced care for your oral health. By investing in Waterlase iPlus All-Tissue Laser System, we offer you a most comfortable and minimally invasive treatment option for a majority of your needs. Please call us at 201-457-1010 to discuss your treatment plan with our dentists and specialists.